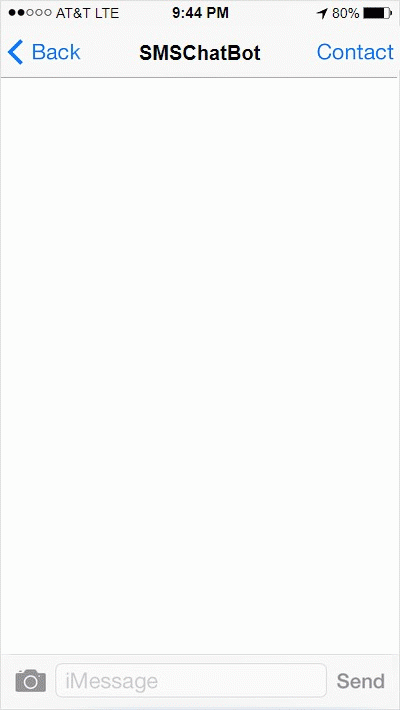 What is SMS CHATBOT?
SMS ChatBot is a ONE OF A KIND Conversation Marketing automated sales and lead capture attendant that uses the latest texting technologies and runs on complete autopilot. Set it and forget it! Sit back and watch your leads come in while also shortening the sales cycle for your product or service.
It works for you 24/7, and if you have your own account, it's very easy to setup and very customizeable. You will start generating more leads and sales in less time than you expected. It's an effective and easy way to build a huge subscriber list fast ~ better than email marketing with up to a 95% open rates on your message broadcasts.
So, what are you waiting for? Click the button below to start!
Collect a Prospect's Information
Highly effective in gathering leads with notification of each subscriber.
Laser Targeted Prospects
Capture prospects who are interested in your product or service.
Automated Chat Responses
Your 24/7 assistant which carries on a conversation with prospects.
Collect Leads Faster
Making it easy for prospects to request information which is delivered instantly.
---
Example Flows... press▶️below
Text "report"
This is a Home Inspection business example. Business is notified when someone requests information. System can collect telephone number, name and address. Leads can then be passed to the Listing Agent or Home Seller.
Text "house"
This is an Open House example. Realtor/Home Owner can collect prospect buyer's telephone number and name, as well as, deliver future times and links to property walk-through video or photos.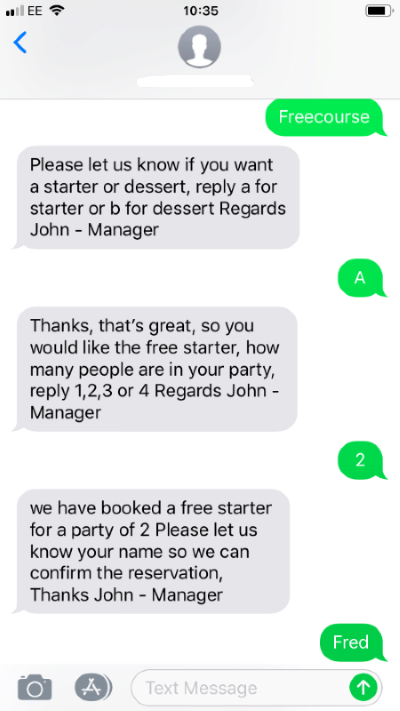 Restaurant ~ Free Starter offer
---
A FEW EXAMPLES OF SMS MARKETING SIGNS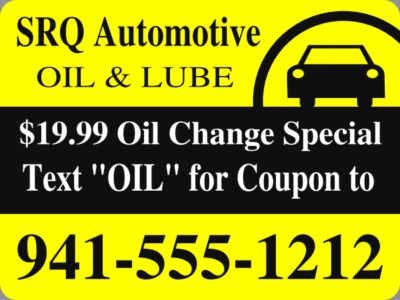 Automotive
Drive more customers by offering various time sensitive offers such as oil change discounts, new tire purchase coupons and more.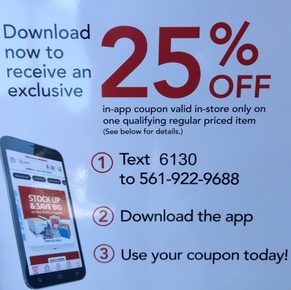 Retail
Mobile coupons get 10X the redemption rate of traditional coupons.
---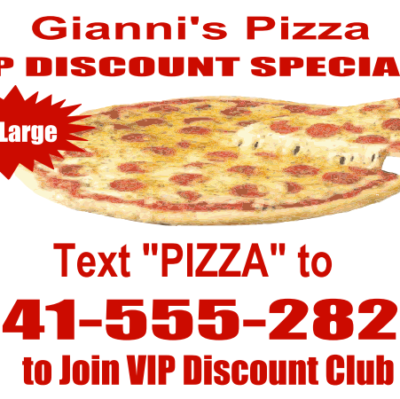 Pizza Shop
Drive on demand foot traffic into your doors with offering exclusive, limited time coupons/offers etc.
---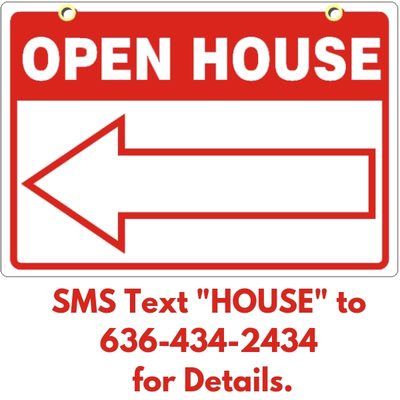 Open Houses
Provide Open House times to buyers, send new listing alerts or price drop notifications.
---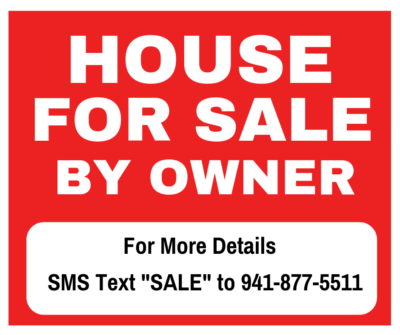 FSBO
Sell your home faster by delivering instant details on the property. Share walk-through videos, notify prospects of price changes, open house events, capture prospect buyer interests and much more.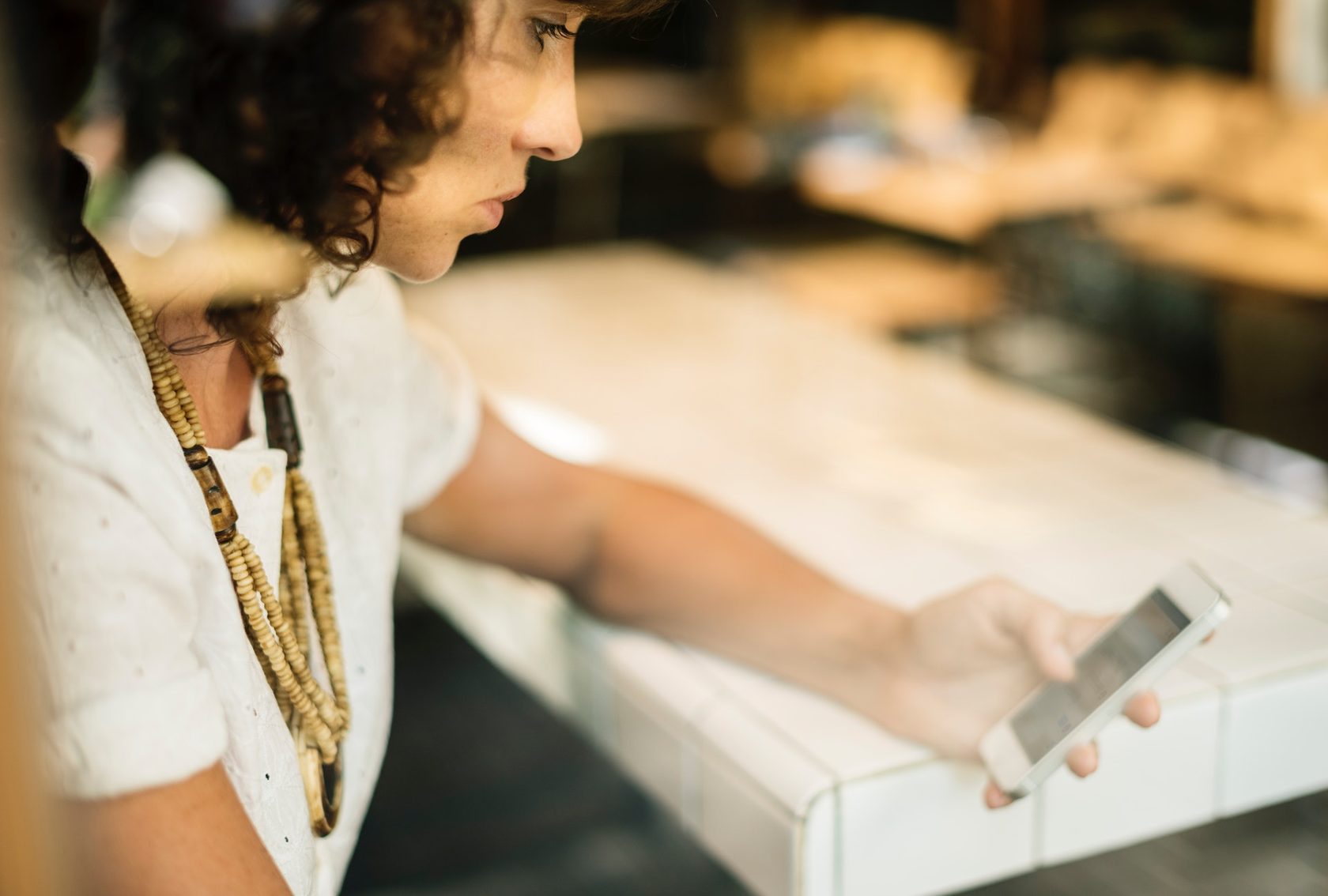 Is your business slow?
SMS ChatBot will change that.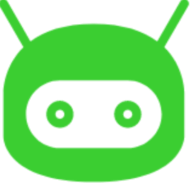 Want to sell faster?
Deliver product / service info instantly.
Signs not converting?
You can't sell, rent fast or collect leads because your sign has issues? 1) They are hard to read 2) Prospects may be hesitant to call the number on the sign. Now you can deliver information to prospects on demand, instantly with SMS texting. They'll call you as soon as you deliver the details to them. With OUR SYSTEM + A SMALL AJUSTMENT IN YOUR SIGN, YOU WIN!! 💥 💥 💥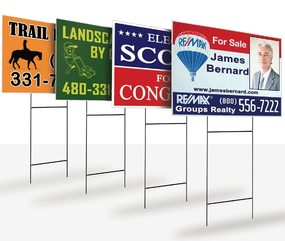 ---
See it in action, DEMO: text "rent" to 941-623-9898
---
sms marketing delivers results
Making SMS ChatBot another tool in your marketing arsenal will give the you the ability to sit, relax and enjoy the automated process of collecting leads and selling with SMS. You'll be notificed everytime a prospects interacts with your SMS ChatBot. Time is money...
Potential customers, buyers, sellers, prospects all need information on your products or services immediatedly. Now you can deliver it on demand! On demand traffic system
Restaurants, Bars, Spa, Cafes, Gyms, Car Washes, Ice Cream Shop and more...flood your doors with customers when business is slow. Seeking more leads & sales?
We do not make guarantees, however, you can count on SMS ChatBot to provide you the most economical and effective way to achieving huge results.
Highly target mobile list
Sell with SMS texting
10x more results than email
Prospects who are interested in your offer responds
Launch prices (will not last )
We offer programs just right for your budget, month to month.
Lease 1 Local Number
Notifications
2 Re-Broadcast Limit
1 ChatBot Flow
Tutorial Video
Store up to 500 contacts
Unlimited Broadcasts
Unlimited Text Campaigns
Account Dashboard
2 ChatBot Flows
Tutorial Video
Store up to 1000 contacts
Unlimited Broadcasts
Unlimited Text Campaigns
Account Dashboard
5 ChatBot Flows
Tutorial Video
Store up to 5000 contacts
Unlimited Broadcasts
Unlimited Text Campaigns
Account Dashboard
*A Twilio account is required to use our SMS Automated Chat Messenging system. Please visit Twilio.com for more information. e.g. of SMS Texting cost: 500 text messages (incoming/outgoing) is $3.75 US (.0075c x 500) For use in USA ONLY.
Frequently Asked Questions
You will get one local telephone number on lease to drive exposure to your product or service. We will set up your chatbot flow according to your business need. You are responsible for your own signage. We will help you with the verbage.
No, we offer month to month subscription programs, so you can cancel at anytime. Upgrade anytime, no strings!
SMS ChatBot is a unique, one of a kind conversational marketing system. Most other systems just broadcast and auto-responds to short or long code requests. With our system, logical conversational flows can be designed allowing for full and effective customer engagements, while collecting the Users' date along the way (email, name, number and much more) Additionally, SMS ChatBot offers tons of other features.
After setting up a SMS ChatBot flow, copy, past and publish our snippet code to your Website, Landing Page, Blog, Social Media etc. to start capture leads.
No, if you've subscribed to our Done-For-You Program. Yes, if you are subscribed to our soon to be released Subscriber Account Program. To use our SMS marketing system, you must have your own Twilio Account (twilio.com) to faciliate SMS texting services.
Because of the nature of our service, we do not offer refunds, however, you are encouraged to use the remaining subscription time for the month to your beneft.
To cancel your account simply send an email to support@smschatbot.com. Be sure to include the email you login with your SMS ChatBot account. Please provide us any feedback if you have to go so we can find a way to help you!
---